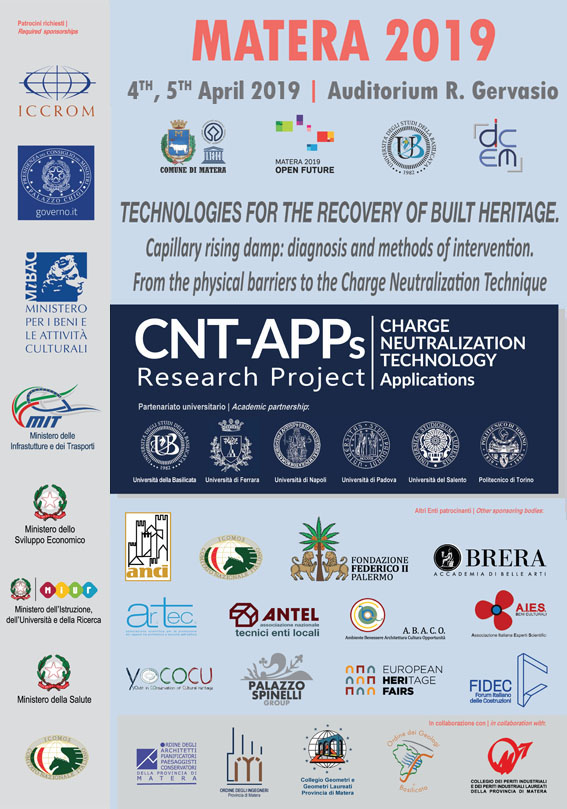 TECHNOLOGIES FOR THE RECOVERY OF BUILT HERITAGE
Capillary rising damp: diagnosis and methods of intervention.
From the physical barriers to the Charge Neutralization Technique
TRADUCI IN ITALIANO   

The masonry walls pathologies caused by the damp phenomena represent the most widespread forms of deterioration of the built heritage and, in particular, of the cultural assets. The porous nature of building materials smooth the progress of the moisture content penetration into the wall structures that, rich in salts, negatively affects the mechanical and thermal characteristics of the load-bearing elements and the building veneer, often affecting the healthiness of the rooms and the preservation of precious decorative layers.
Despite the widespread diffusion of such pathologies and the harmful effects on safety, health, and conservation of cultural built heritage, wall dampness has always been considered a "second order" issue with regards to the seismic and energetic topics that have engaged most of the academic resources. Scientific research in the field of capillary rising damp, mainly developed by sectorial enterprises, has not identified -aside from particular exceptions- system, process and product innovations, sufficiently tested and resolved for those pathologies connected to the different "damp typologies." Among these indeed emerge those caused by the capillary rising damp into the historical, artistic and monumental building heritage walls.
The rising action, caused by the natural attraction that the capillary system of the materials exerts through simple contact with the water molecules present in the subsoil, represents the field of greatest operational and research complexity. The attempt to remove the source by isolating the existing wall structures from the foundation soil has involved many scholars, in the past, to focus on methods (i.e., mechanical, chemical, evaporative and electrical approaches) which were able to block the arising, to support the disposal of the internal water content or to contrast the rise by introducing artificial electric fields into the walls. The most promising technological innovation, supported by numerous scientific experiments, is the "Charge Neutralization Technique" (TNC). The proposed methodology, posing as an evolution of traditional electrical interventions, entrusts its effectiveness to the action of a weak electromagnetic field which, spreading by air, frees its efficacy from the particular wall system and acts on the electric water behaviour, countering the recall actions within the capillary system.
The Conference aims to raise up the debate focussing on the masonry pathologies caused by damp phenomena, with particular reference to the weathering action backed by capillary rising damp, supporting the need to define a scientific method for the design of retrofit interventions based on a correct succession of diagnosis stages, qualification and application of technologies and testing of interventions.
PROGRAM – DOWNLOAD THE HANDWHEEL
For more information, visit the website: www.cnt-apps.com or contact the conference secretariat: info@cnt-apps.com
Please direct this message to those potentially interested in taking part in the conference.
EVENT NO PROFIT
ORGANIZATIONAL SECRETARY
CNT-Apps
Corso Sempione 215 – 20025 Legnano
Tel. 324 8786108 – email: segreteria@cnt-apps.com